Document Storage in St. Petersburg
It is hard to keep business owners focused when the subject is St Petersburg document storage. On the surface, it does not look like a subject that requires much time. But document storage can be a tremendous asset or a potential threat. Every organization needs a continuity plan in case of an emergency. Plus countless laws mandate the storage of company documents.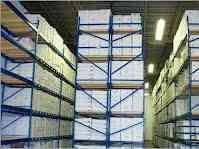 It is possible to store documents in your building but that isn't very economical for every business. It doesn't make sense to use expensive office space for cabinets of records. There is also a need to keep security over the information and even more importantly, there must be safeguards in place for a disaster.
To get free, no-obligation quotes on long-term document storage, give us a call at (727) 362-6797 or fill out the form to the left.
St. Petersburg Document Storage
Here are some considerations to look for in a St Petersburg records storage provider.
Simplicity & Cost Savings in St. Petersburg
Are you using expensive office space to maintain records and information? A St Petersburg records storage service will help you realize the expense savings associated with freeing up that expensive room and enhancing the productivity of employees who have to maintain the documents.
Safeguarding of Records
The security and confidentiality of important records and files are sometimes considered to be far simpler than it really is. Companies can quickly become swamped with efforts to comply with privacy requirements. Hiring a vendor simplifies security problems.
Access Control
It is crucial to keep the right files in the proper hands. All documents should be kept on a need to see basis. The more employees that can contact the records, the greater the control problem. Through a records management service, we can lock access down to a per document rule.
Climate Maintained Document Storage
We provide temperature and humidity controlled storage for all types of document formats. That includes paper, film, x-rays, microfilm, discs, magnetic tapes. The area is set up with a backup power source.
Legal Compliance in Florida
Many businesses keep large amounts of records. They may be doing so in error. There are also many who neglect to keep the correct documents and may be discarding critical information. Document retention policies with document storage programs will allow you to set up plans on which files to retain and for how long. It also established how to dispose of records after they are no longer needed.
Disaster Protection & Planning
Major catastrophes can destroy years of important business documents. An offsite records storage location is set up to protect your records from disasters. We prevent the destruction of your critical records.
Get Free, No Obligation Quotes on Records Storage Services in St. Petersburg
St. Petersburg Scanning Service can help store your records on-line in a digital format or in a secure off-site facility in a physical format. We will save you money on storage space and also maintain them in a secure, climate controlled facility.
To get free, no obligation quotes on long-term document storage, give us a call at (727) 362-6797 or fill out the form to the left.